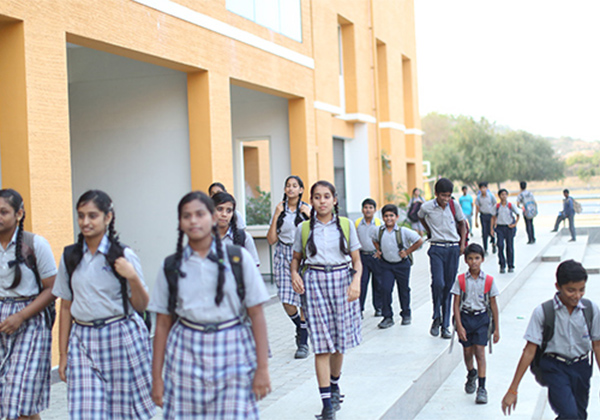 Admission PES PUBLIC SCHOOL is open to all categories of students irrespective of caste. creed. colour or religion.
Students from English medium schools with good academic performance and inclination to study are eligible to apply.
On Registration, candidates – should appear for a written entrance test in the following subjects -Maths, Science, Social Science, English, Telugu and Hindi.
Written Test and Interview of students are conducted on the day of entrance test.
It is mandatory that parents should accompany their ward(s) for Entrance Test as well as for interview.
On the basis of the performance in the written test and interview and considering all other General & Specific Criteria, the Merit List of provisionally selected candidates will be prepared and put up onthe School Notice Board.
Applicants selected should confirm their admission within the stipulated date, remit the fee, submit the duly completed declaration form andother essential documents
Documents required for Admission:
Photocopy of the Birth Certificate
Two passport size photographs
Other necessary documents
Please submit the Application & the required documents to Office of Admissions.
Academic Year
---
The academic year is scheduled from April to March with vacation during the month of May. The School re-opens in 1st week of June. The School remains open on all days except Sundays, Second Saturdays and Government declared holidays.
The Academic Year consists of two terms:
| | |
| --- | --- |
| First Term | Second Term |
| April to September | October to March |
School Timings
---
Class Activities are scheduled from Monday to Saturday. Each day is divided into two sessions: Morning and  Afternoon.
| | | |
| --- | --- | --- |
| | Session 1 (Kindergarten) | Session 2 (  I to X) |
| Morning Session | 8.30 to 12.00 | 8:30 – 12:20pm |
| Lunch Break | | 12:20 – 01:00pm |
| After Noon Session | | 01:00 – 04:00 pm |
Note: Students should be present in their class rooms before 8:30 am. If, delayed due to the reason approved by the parent or warden, the student should bring a "Letter of Explanation" from the parent warden and enter the class with the permission or the Principal
Important Note
---
 Admissions are open for both boys and girls for classes from LKG to Std IX and Std XI.
The School authorities may modify and change the terms and conditions mentioned in the Prospectus. from time to time.
Parents may admit their ward(s) in PES School after thoroughly satisfying themselves by personally going around the Campus with our assistance & perusing the infrastructure.
Admission to all Classes is purely based on the performance in the Entrance Test
Conditions for Withdrawal
---
 Students once admitted will remain in the school for the entire course of study Due to unavoidable circumstances. if parents wish to withdraw their child from school they will have to forfeit the entire amount of Annual Fee paid.However, if the reason for withdrawal is legitimate and is within a month from the date of admission, the Management may consider a refund Parents have to inform in writing about the withdrawal and apply for the Transfer Certificate.